THE VINDICATOR
MONDAY, OCTOBER 23, 2000
REVIEW
Glass Harp jammed at length and
sang its faith-centered messages
for an enthusiastic audience.
By DEBORA SHAULIS
ENTERTAlNMENT EDITOR
YOUNGSTOWN—Glass Harp received a standing ovation Sunday night before playing a single note.It was a hero's welcome, and well deserved at that. Roughly 28 years have passed since the members of Glass Harp gave their final joint performance in their hometown. That
famine ended with a three hour,sold out concert at Edward W. Powers Auditorium that satiated long time fans' nostalgic cravings and created a hunger among new followers who missed Glass Harp during its first go around.
Breath of fresh air:
The music of guitarist Phil Keaggy, bass player Dan Pecchio
and drummer John Sferra still serves as an antidote to trends in themusic industry.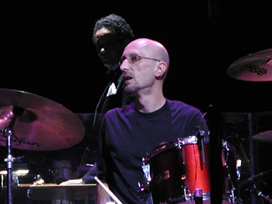 While three-minute-and-under songs earn regular rotation on radio Glass Harp favors extended jams that the musicians seem to perform effortlessly and audiences embrace enthusiastically.While others sing morose or overtly sexual lyrics, Glass Harp's faith centered message encourages inner reflection and celebrate life's blessing. While some bands are content to relive their glory days note for note Glass Harp reworked many of its songs and enlisted the aid of members of Youngstown Syrnphony Orchestra. Finally, while some bands can't bring the benefits of recording studio ,wizardry on stage, Glass Harp especially Keaggy has raw talent to spare.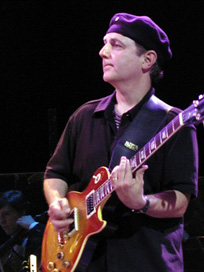 Pecchio had told a reporter before the show that this audience would
be kind to the more mature Glass Harp. In retrospect, Pecchio was be-
ing too self-critical. The brotherhood among these musicians brought out the best in each of them.
Selections: They stuck with tra- dition and opened the show with "Look in the Sky." From that point, the set list was a combination of songs from Glass Harp's repertoire and a smattering of each man's post-Glass Harp work. Pecchio's contributed Days Gone By," which he called a "song of reminiscence." His elder son, Ted played bass on Child of the Uni-verse," which Pecchio sang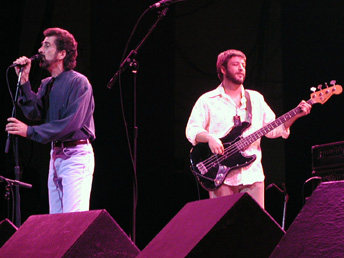 soulfully for his younger son, Danny. They also performed Chalice,"
a warm song Keaggy and Sferra wrote jointly about the meaning
behind human suffering.
Among Keaggy's offerings were"Shades of Green."a folksy guitar
number, and "True Believers," an uplifting piece about heeding the Lord's words that reflected Keaggy's passion for contemporary Christian music. With one Keaggy solo after another, listeners felt buoyant, inspired and energized by his playing.
Symphony collaboration: The symphony's violinists echoed Keaggy's finger work during a concerto for guitar and strings that opened the second half of the concert.
YSO music director Isaiah Jackson conducted the instrumentalists in a successful merger of the rock and symphonic groups, with only a few balance problems. Sadly, a flute soloist's wistful work was heard only sporadically during the beautiful "Southbound." Her solos were more prominent as the group tackled a Glass Harp centerpiece,
Changes." Several other brass and string players augmented songs with meaningful audible solos.
Sferra's song "Let the Bells Ring"had tangible connections to classical compositions. At its conclusion,several musicians struck large chimes as they walked from the rearof the auditorium to the front. The final song of the evening, "Tender Love," was co-written by Keaggy and spoke of unconditional love. The sheer beauty and joyousness of it brought the audience back to where it had begun the evening—on its feet.

.